The TFC Tour – Memento Nora Launch Contest
[I'm mirroring the contest I'm running my author site to avoid confusion. You can comment here or on my site (www.angiesmibert.com) to enter to win!]
In Nora James' world, if you're haunted by a bad memory, all you have to do is walk into a Therapeutic Forgetting Clinic (TFC),  pop a pill, and go on like nothing ever happened–sans that particular memory. And you earn frequent forgetting points for every visit.  However, Nora James spits out her pill and holds on to the memory. That's when things get unglossy for her.  But, along the way, she does find new friends who don't believe in forgetting either.
So, to countdown the weeks until the launch of Memento Nora, I've asked a few of my friends to share some spit-worthy memories–and you guys can earn the points.
Here's the line-up:
2/10: Beth Revis, Across the Universe.
2/17: Bettina Restrepo, Illegal. [I'll be hosting Bettina's memory on my blog.]
2/24: Julia Karr, XVI.
3/2:   Jeff Hirsch, The Eleventh Plague.
3/1o:  Kiki Hamilton, The Faerie Ring.
3/17:  Gae Polisner, The Pull of Gravity.
3/14:  Carrie Harris, Bad Taste in Boys.
3/31:  Elana Johnson, Possession.
What's the reward? You can enter to win a nice prize pack o'stuff.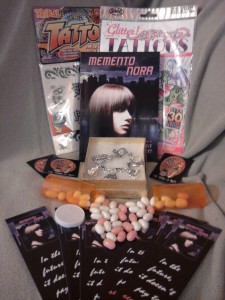 The stuff includes:
Signed copy of Memento Nora

Temporary tattoos and stickers

Bookmarks

Your very own supply of forgetting pills. (Ok, they're really Jelly Belly's.)

And this glossy charm bracelet…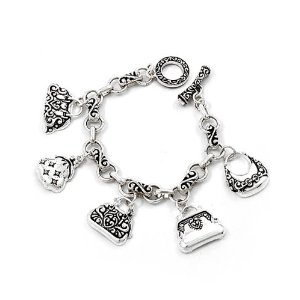 How do you enter? Simple. Each week, leave a comment on the featured blog–and here on my site. Each weekly comment earns you a point (which in this case equals an entry in the random drawing). In other words, if you comment on every week, you get 8 points… er, entries.
The winner will be announced April 7.